RA students develop academic and life skills through investigation, creativity, inquiry, and reflection. The arts are used as a vehicle to make connections among various curricular areas, increase student engagement and ultimately lead to higher levels of student achievement.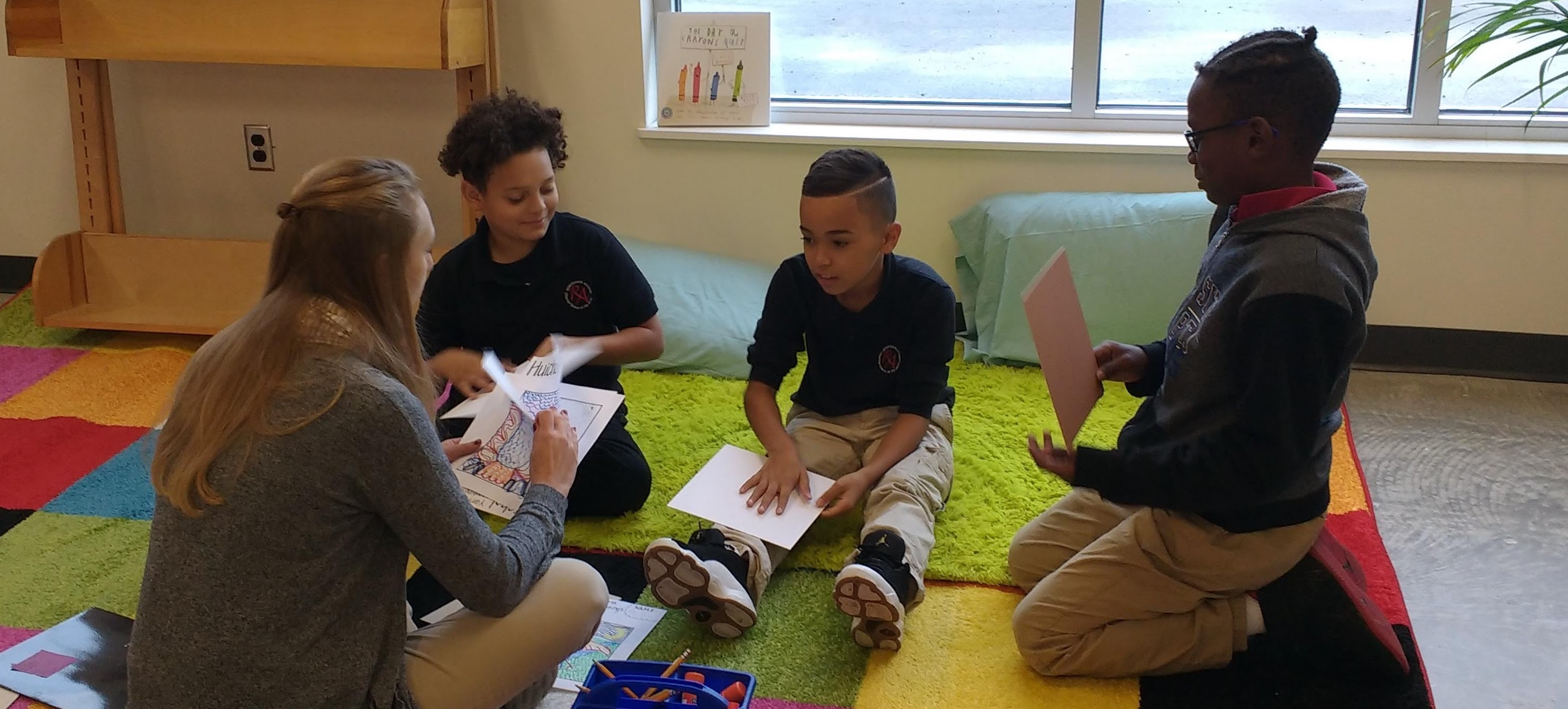 Arts Integration
Arts integration is a method of simultaneously teaching students content in an art form (visual art, music, dance, or drama) and another subject (ELA, math, social studies, and/or science). At RA, each lesson incorporates standards from the art form and content area to improve student understanding in both areas. Students participate in daily arts integration classes, and work within a new art form each trimester.
Skills-Based Arts Classes
At RA, all students participate in dance, music, and visual art classes. These classes focus on teaching discipline-specific skills. Students are required to create, present, respond, and connect in each art form. Dance, music, and visual art curricula are aligned to the updated NYS standards for the arts.

Arts Enrichment
In addition to arts integration and skills-based arts classes, all students at RA also have the opportunity to "dig-deeper" into an art form that interests them. Students spend four to six weeks working on creative dance, drama, music, or art projects in small group settings. Students then share what they have created with their families and/or the school community.
After School Encore Program
Here at RA, we also have an after school program called "Encore" that includes many arts classes. Throughout the year there are three sessions of Encore, each with a variety of unique, challenging, and interactive classes. For example, students have practiced ballet, participated in a play, learned to play keyboard, and created graffiti-inspired artwork, among other arts-based projects. Encore is not just arts focused. Students have also learned more about various technologies, built robots, baked food, participated in various sports, and attended Girl/Boy Scouts.
Band and Choir
In addition to General Music Class, choir and band are also offered to our fourth-sixth grade students. Students elect to participate in either program. We provide instruments for all students who need them in our band program, and plenty of time to practice for the students in choir.
In-House Performances and Field Trips
Our students are provided a variety of opportunities to become further immersed in the arts. We bring in local artists and guest performers, the students put on a variety of performances, and we also take field trips to different arts-related venues. For example, the Mambo Kings, an Afro-Cuban band, has played at our school for Hispanic Heritage Month and our students often visit Nazareth to see the school series performances that integrate the arts and academic content.
English Language Arts
All students participate in daily whole group and small group instruction in reading and writing. In Kindergarten, thematic units are taught that align to the New York State Standards. In 1st-2nd grade, students learn the Wit and Wisdom Curriculum. In 3rd-6th grade, students learn Achievement First Curriculum.
Mathematics
All students participate in daily whole group and small group instruction in mathematics. All students, kindergarten-6th grade, are learning the Achievement First Curriculum for Mathematics.
Science
Students at all grade levels, kindergarten-6th grade, explore science concepts using the FOSS Science Kits.
Social Studies
Students at all grade levels, kindergarten-6th grade, dive deep into social studies concepts through the Houghton-Mifflin Harcourt Curriculum. We are working diligently to adapt the curriculum to make it more culturally responsive and relevant to our students.
"Thank you very much for the opportunity to present Math and Movement to your teachers. It was a great honor to be at the Renaissance Academy Charter School of the Arts. I am very impressed with your teachers, curriculum, positive school culture and administration. Your teachers are highly intelligent and innovative. I travel to many schools across the country. It has been a while since I have presented at a school that has impressed me as much as Renaissance Academy Charter School for the Arts. Thank you for your vision in founding the school and your diligence in creating an amazing, innovative educational opportunity for your students. I hope I will have the honor of working with you again." Suze Koontz, Founder and CEO of Math and Movement